info and links...
I shall be running a two day workshop in Ashton-on-Mersey over two Saturdays; March 23 and April 6. The theme this year will be the music of Dizzy Gillespie.
Sherborne Summer School will be taking place this year August 4-10
click here for details

The Autumn repeat of the Dizzy Gillespie workshop in Ashton-on-Mersey will be on Sept 28 and Oct 5
If you think you might like a workshop in your area... please get in touch
Gigs for 2023

29 October 1300
Regeneration Big Band led by Nigel Ashworth
Wigan Jazz Club

16 November 2000-2200
w Richard Wetherall Trio
Alsager Golf and Country Club

1 December 1300-1630
with vocalist Jo Lester and trio
Romily Con Club

3 December 2000-2200
with vocalist Jo Lester and trio
Horwich R.M.I.

5 December 2100-2300
Mike Hall's BOPLICITY
The Railway, Stockport

9 December 1930-2200
with Hootin Annie's Big Band (special guest Alan Barnes)
The Marsden Mechanics, Marsden

14 December 1930-2200
Mike Hall's BOPLICITY Christmas Special
Davenham Players Theatre, Davenham

16 December 1930-2200
with Syd Lawrence Orchestra
Stoller Hall, Manchester



Gigs for 2024

12 February 2030-2300
Mike Hall Trio w Ed Harrison and Andy Hulme
Streetbridge Inn, Failsworth

13 February 1900-2030
Angelica Saxophone Quartet
Carrington Lane Church, Ashton upon Mersey

15 February 1900-2030
w Andy Hulme trio
Alsager Country and Golf Club

21 February 2030-2230
w Jon Taylor and Paul Smith quartet
Head of Steam, Huddersfield

3 March 1500-1730
w Robin Dewhurst TBC
Saison, West Didsbury

16 March 1930-2200
as special guest with Hootin Annie's Big Band
The Marsden Mechanics, Marsden

17 March 1430-1700
as special guest with Hootin Annie's Big Band
Sale Con Club, Sale

10 April 2030-2230
w Paul Smith quartet
Head of Steam, Huddersfield

11 April 1300-1630
w Digby Fairweather and Paul Smith
Dringhouses Jazz Club

16 May 2000-2200
w Richard Wetherall trio
Alsager Country and Golf Club

26 May 1930-2200
Mike Hall's BOPLICITY (jazz octet)
Kirkgate Theatre, Cockermouth

6 August 1830
Solo 'Recital'
Cheap Street Church, Sherborne

1 Sept 1300-1630
Regeneration Big Band
The Continental, Preston




My recent article in the CASS (Clarinet and Saxophone Society UK) magazine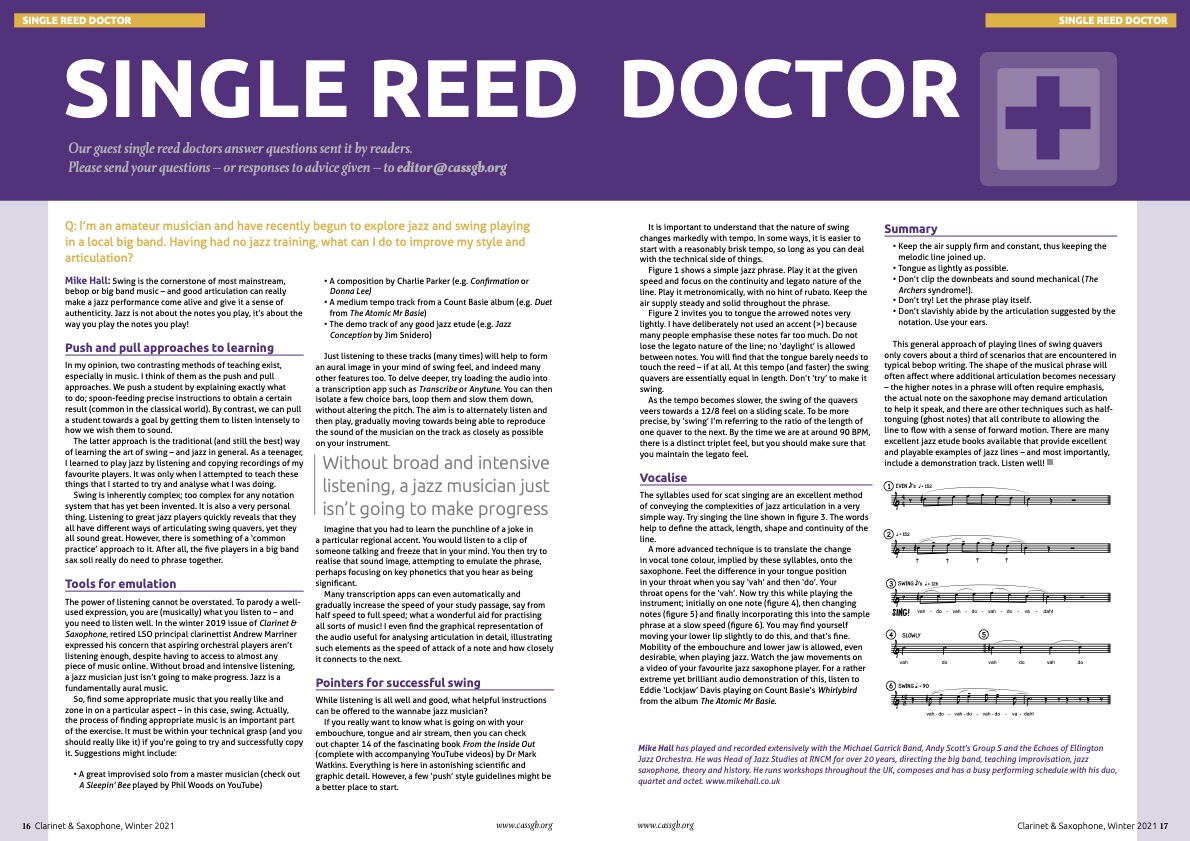 Two Jazz Saxophone Etudes
click here for resources page
Mike Hall Quartet: "Legends of the Tenor Saxophone"
Quartet set highlighting some of the key exponents of the tenor saxophone
Mike Hall/ Andy Hulme duo
Acoustic, virtuosic and energetic... Bossas, Ballads and Bebop!
Boplicity
Octet (5 horns + rhythms) playing music including:
West Coast style 'cool' jazz
Rearrangement of Ellington's Nutcracker Suite
Libertango, Spain(Corea) etc
The Messengers
Quintet featuring Steve Waterman
The Felonious Monks
12 piece ensemble playing original material commissioned by Manchester Jazz Festival in 2013 (studio CD available)
click here for more information and to buy CD
Crystal
7 piece ensemble playing my original compositions soprano saxophone, bass clarinet, cello, paino, bass, percussion, vibraphone
Quadratus
Mike Hall Quartet plus string quartet
Mike Hall's Boplicity...
Boplicity in concert...
in duo with Dan Whieldon...
clip from Felonious Monks...
with Sax Assault...

For 25 years I had the privilege to teach the subjects that I am most passionate about; jazz, big band and improvisation.
In particular, I was musical and artistic director of the RNCM big band, a major college ensemble.


Guests with the RNCM Big Band since I began directing


Gerard Presencer (Oct 1999)

Nigel Hitchcock (Mar 2000)


John Dankworth (Nov 2000)

Ed Thigpen (Dec 2000)

Tim Garland (May 2001)


Dave O'Higgins (Nov 2001)

Digby Fairweather (Dec 2001)

Steve Waterman (Feb 2002)

Stan Tracy (Mar 2002)

Lee Gibson (May 2002)

Alan Ganley (Jun 2002)


Bob Mintzer (Nov 2002)

Don Lusher (Dec 2002)

Paul Newton (Feb 2003)

Tina May (May 2003)

John Wilson (Jun 2003)


Jiggs Whiggam (Nov 2003)

Ken Peplowski (Dec 2003)

Birger Sulsbruck (Feb 2004)

Julian Joseph (May 2004)

John Dankworth (July 2004)


Dave O Higgins and Julian Arguelles (Nov 2004)

John Wilson (Dec 2004)

John Warren with Steve Waterman (Jan 2005)

Anita Wardell (May 2005)

Andy Sheppard (July 2005)


Bob Mintzer (Nov 2005)

Pete Long (Ellington Night) (Dec 2005)

Matthew Herbert and Pete Wraight (Feb 2006)
Stan Sulzmann (May 2006)
Victor Mendoza (MD: Clark Rundell) (July 2006)


Tim Garland (Nov2006)
Digby Fairweather (Dec 2006)
Dennis Rollins (Jan 2007)
Jacqui Dankworth (May 2007)
Alex Wilson (July 2007)


Huw Warren (Oct 2007)
Ellington Sacred Music with Tina May (Dec 2007)
Mark Nightingale (Jan 2008)
Gerard Presencer (May 2008)
Colin Towns (July 2008)


Chris Potter (Nov 2008)
Quincy Jones night with Pete Long (Dec 2008)
Birger Sulsbruck (Jan 2009)
Norma Winstone (March 2009)
John Dankworth (June 2009)


Nikki Iles (Nov 2009)
Count Basie night with Alan Barnes (Dec 2009)
Steely Dan night with Mike Walker (Jan 2010)
Jiggs Whigham (March 2010)
Alex Wilson (June 2010)


John Taylor (Nov 2010)
Pete Long (Dec 2010)
Laurence Cottle (Feb 2011)
Gwilym Simcock (Apr 2011)
Guy Barker/Martin Taylor (July 2011)


Steve Waterman (Nov 2011)
Colin Towns (Dec 2011)
Steve Berry (Feb 2012)
Clare Teal (Mar 2012)
Bob Mintzer (July 2012)


Dave O'Higgins and Pete Wraight (Nov 2012)
Liane Carroll (Dec 2012)
Mark Bassey (Feb 2013)
Chris Garrick (Apr 2013)
Supertramp Night with John Helliwell (July 2013)


Julian Arguelles (Nov 2013)
Benny Goodman night with Pete Long (Dec 2013)
Tim Garland (Apr 2014)
Satie in Blue (guest arranger/director Gary Carpenter)(July 2014)


Julian Josepth (inc E=MC2 Basie set) (Oct 2014)
Northern Dance Orchestra Recreated (Dec 2014)
Mark Nightingale (Feb 2015)
Tina May and Nikki Iles (March 2015)
Colin Towns Hamboug Suite and Orpheus (July 2015)


Billy Strayhorn Tribute (Oct 2015)
Sinatra Night with Matt Ford (Dec 2015)
Ryan Quigley (Jan 2016)
Clark Tracey 'Alice in Jazzland' (March 2016)
Singers in Jazz (July 2016)
Malta Int Arts Fest: The Re-Write of Spring (July 2016)


Dave Hassell/Andy Scott (Nov 2016)
Tim Garland Commission Luca's Winter (Dec 2016)
Martin Taylor (Feb 2017)
The music of Fred Sturm (March 2017)
Laurence Cottle 'Tribute to Jaco' (July 2017)


A Hot Night in Paris (Nov 2017)
Alan Barnes' Christmas Carol (Dec 2017)
Steve Berry (Feb 2018)
Markus Stockhausen (March 2018)
Bart Van Lier (July 2018)


Eric Marienthal (Nov 2018)
China Tour (Nov 2018)
Pete Long (Benny Goodman)(Dec 2018)
Nathan Bray (Feb 2019)
Mike Hall's Farewell Concert w Amy Roberts, Russell Bennett, James Girling and John Helliwell (June 27 2019)
Blog Spot...

So on Friday evening, 30th June, 2023, I went along to the RNCM big band end of year concert and, as it was part of the RNCM50 celebration, I was invited to say a few words about my 20 years directing the band.

The inevitable nostalgia got me reflecting on the path that my career has taken and the important opportunities that the universe has granted me along the way. I am the world's worst networker but have met some marvellous people who have believed in me (…more than I believed in me!!) and helped enormously.

In 1981, I had a strange experience while my bus home idled immediately outside the RNCM building! It was the first time I had even noticed the place. I didn't get the chance to go to music college (my degree was in Civil Engineering of all things!) but while sitting on this bus some strange subconscious connection or awakening took place! It definitely was not 'that is the place that I want to go to' (such a wish seemed far too removed from the realms of possibility at the time!) but simply drawing RNCM into my mental map of the world.

The end of year RNCM big band show over many years has been a sort of marker for me! I first attended as a 'layperson' in 1986 when the guest was dear Don Rendell and Clark Rundell was directing. In the band was Andy Scott, Rob Buckland and Iain Dixon on saxophones although I didn't know them at all. I had no idea at all about what was to happen in years to come.

This was shortly before attending my last of many Wavendon Summer Jazz Courses, this time with bassist Stuart Riley and pianist Dennis Freedman. Stuart said something like… "this is fun but the organisation is lousy… why don't we set up our own Jazz Summer School?"

And in 1987, he did! I still have the poster on my wall! So, my first teaching experience was entertaining a dozen saxophone players in the morning and an ensemble class in the afternoon for a week!! Baptism by fire! I didn't sleep ALL week! Fellow tutors included Norma Winstone, Julian Arguelles and Mike Walker! Stuart also went onto form a full-time HND/HNC jazz course at the City College Manchester which he involved me in providing invaluable experience.

My day job with ICI was becoming a bit pear shaped and by 1993 I took voluntary redundancy and managed to sweet talk my way into doing a one year PG course at RNCM; attempting to study classical saxophone! I haven't played a note of classical saxophone since my final recital in 1994.

Whilst at the RNCM I was delighted that John Helliwell (of Supertramp fame) was a fellow student in his 3rd year of an UG course! And both of us were given places in the RNCM big band! Stan Barker, ace jazz pianist, provided once a week improvisation classes but, poor soul, suffered a major stroke two weeks before the end of the year!

So, because Stan's post at RNCM was fairly minor and, we hoped, his absence was to be temporary, I was offered the job! Incidentally, as a result of Stan's illness, I was also asked to deputise as leader of the Canford (now Sherborne) Jazz Summer Course which I have continued to do until the present day.

Anyway, running the once a week improv class quickly escalated to running the Jazz Collective, teaching one to one jazz saxophone, presenting Jazz History and Theory modules and, eventually, in 1998, Clark handed over the RNCM band to me! That was baptism by fire also but it led to so many rich musical experiences!

One of these was inviting Peter Long (affectionately known as Plong by the music world) to be guest with the band. His first visit was in 2005 when we did an Ellington Night. In the student concert Peter invited me to play a chorus on C Jam Blues which I did in a sort of Gonsalves style that seemed appropriate! As a result, Peter invited me to play a week at Ronnie Scott's in his own big band, The Echoes of Ellington! So for 6 nights on the trot I got to play the extended solo on Diminuendo and Crescendo in Blue!

I had actually met Pete when we were both students on a Wavendon Summer Course back in 1981 (?). Fellow students there also included Nikki Burnham (later to become Iles), Dave O'Higgins, Theo Travis and Iain Ballamy!!

I first met Andy Scott when we were both playing tenor in a local big band concert somewhere in the Wigan area some time around 1988. Andy has been a great mate ever since and included me when he put together Sax Assault (rebranded Group S) in 1996.

So I've had a huge amount of luck! Thank you everyone!

1975 play Mozart Clarinet Concerto with Edinburgh Secondary Schools Orchestra
1976 student on Wavendon Allmusic course
1979 graduate in Civil Engineering from Heriot-Watt Uni starting work with Wootton, Jeffries and Ptrs
1981 first gig with NYJO (Isle of Wight)
1984 special guest at Kendal Jazz Festival with Sue Kibbey and Tony Coe
1985 first BBC broadcast with Michael Garrick Big Band
1987 won Wavendon Allmusic Competiton (contestants included later colleague Ben Crosland!)
1987 special guest in John and Cleo's Christmas Show
1987 first Manchester Jazz Summer School as tutor
1990 appeared as soloist at Cambridge Jazz Club
1992 first performance of my saxophone quartet,'Tales of the Sun God' by Apollo Saxophone Quartet
1993 attended one-year post graduate course at RNCM to study classical saxophone
1993 became father of Lucy
1994 guest in John Helliwell's 50th birthday concert
1994 first year teaching at Canford Summer School
1995 tour of Malaysia with Michael Garrick Big Band
1996 first gigs and recordings with Andy Scott's 'Sax Assault'
1997 two appearances as reviewer on BBC R4 arts programme 'Kaleidoscope'
1999 first concert directing the RNCM big band
2002 play with Julian Joseph and Halle Orchestra
2003 gigs with with 'Crystal'
2004 start duo concerts with Dan Whieldon
2006 week at Ronnie Scotts with Pete Long's Echoes of Ellington
2006 with 'Sax Assault' play support to Yellowjackets in Slovenia
2007 my own 50th birthday concert featuring RNCM string orchestra conducted by Clark Rundell
2008 member of RLPO in concert with Wayne Shorter feat his music
2011 began teaching at Creative Vacances summer school in France (closed 2020)
2013 compose and record music for Felonius Monks project
2016 record on Andy Scott's CD Ruby And All Things Purple (inc my composition Sabretooth)
2018 record Jazz Planets CD with Echoes of Ellington
2019 step down from directing RNCM big band after 20 years (well over 100 concerts!)
2020 record Supertramp hits with SuperBigTrampBand
Sherborne Summer School
My jazz education summer retreat in the beautiful setting of Sherborne School
click here for details
AB Workshops
Various workshops (jazz/classical/pop) run by mastermind Andy Blee. (I have taught here many times and may well do again!!)
click here for details
Steve Crow
Simply the best saxophone repair man you will find anywhere!
click here for details
Jazz Advice
Website offering very good practice lessons and suggestions, many of which are free
click here for details